Visiting The Chain Of Rocks Bridge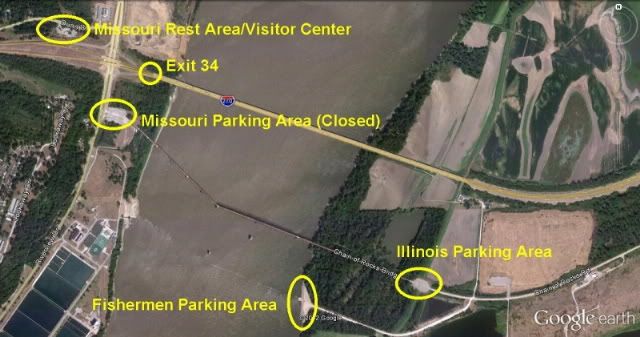 One of our members was recently the victim of theives while parked on the Missouri side of the Bridge. Perhaps this will help others from having the same misfortune.
There are three parking options when visiting the Bridge:
Park at the Missouri Rest Area/Visitor Center and walk to the Bridge.

Park in the lot on the Illinois side. It is very isolated but there is very little passing traffic. There are security cameras but I do not know who watches them or how closely they are watched. I have never heard of any problems while parking there.

Park along the road on the Missouri side outside of the chained off parking lot.
The first is probably the safest and the walk from the Visitor Center to mid-river is about the same as the walk to mid-river from the Illinois parking lot. The last is the most dangerous and is where our member was victimized. There is a lot of passing traffic and this is not the best part of town.
The fisherman's parking lot is the best place to view the whole bridge. It is a dirt/gravel road in fairly good shape and can easily be driven in a regualr car or a motorcycle when dry. It could be a different story if there were muddy conditions.
Route 66 veteran

Posts: 1681
Joined: Thu Sep 22, 2005 11:38 am
Location: St. Louis
---
When we were there in May the staff at the Missouri Welcome Center/Rest Area at the first exit in MO advised us NOT to use the parking lot on the MO end of the Chain of Rocks bridge.

We had already been to both the fishing area and IL parking lot for the bridge itself. I walked out on the bridge from the IL side parking lot.

Lot's of people at the fishing area, so it seemed very safe. The bridge parking lot was pretty empty, maybe 3 cars.

We visited in mid morning.
Heading out to cruise America, one old road at a time.
Frequent traveler

Posts: 425
Joined: Mon Jan 02, 2012 3:10 am
Location: Mpls/St. Paul, MN
---
---
Who is online
Users browsing this forum: No registered users and 2 guests